Tenrikyo Dynamic Mission
This universe is the body of god.
Ponder this in all matters.

So long as you remain unknowing that the body is
a thing borrowed, you can understand nothing at all.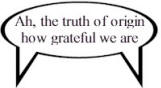 WELCOME TO THE TENRIKYO DYNAMIC MISSION PAGES
This time, no matter how serious your illness may be,
I shall teach you the family recipe for your assured salvation.

From now on, I shall tell you clearly about the ingredients.
Please understand well, whatever I say.
All DISHES are prepared using the ORIGINAL family recipe - enjoy!